Not Created By A Human Hand was conceived as an invitation to several artists to create a new work that responds, to either the shroud of Turin or the first photograph of it, by Secondo Pia.
The photograph of the shroud (1898) opened up the possibility of turning the imprint of the body of Christ from a negative into a positive; to finally see the face of Christ , and make sense of the stains of the linen.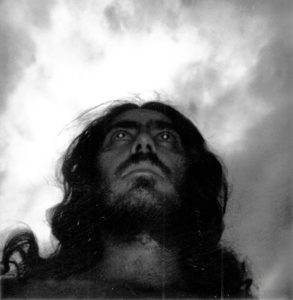 Works by Giorgio Andreotta Calò (IT, 1979), James Beckett (ZW, 1977), Rossella Biscotti (IT, 1978), Susan Hiller (USA, 1940), Joachim Koester (DK, 1962), Jonathan Monk (GB, 1969), Dan Rees (GB, 1982), Mark Soo (Singapore, 1977), Philippe van Wolputte (BE, 1982) and a print of the first photograph of the Shroud of Turin (1898), by Secondo Pia.
For full documentation and images of Not Created By A Human Hand click here.
Click here to download the pdf of the publication with a text by Alena Alexandrova.
With Pick of the Week we present weekly works from the gallery program, starting from the first show in 2008 till now.
Previous works in Pick of the Week:
#1  Matts Leiderstam, View (Westpoint), 2003 – collection Museum Voorlinden (release 27-3-20 click here for full text)
#2  James Beckett, Sack One and Two, 2008 – collection AGI Verona (click here for full text)