Next Day, 2015-2016 by Doug Ashford depicts an emotional appraisal of the press coverage of the 9/11 attacks in the New York Times. The work consists of a reprinting of all 28 pages of the historic September 12th issue through the 'lens' of colored, abstract patterns.
28 archival inkjet prints on paper in an archival box
Image size: 55,8 x 34,2 cm
Sheet size: 68,6 x 46,4 cm
The whole series of 28 pages is now in the collection of Kunstmuseum in The Hague (NL).
Click here for more information about this work.
With Pick of the Week we present every week a work from our program which was acquired through the gallery by an international collection.
Previous works in Pick of the Week:
#1  Matts Leiderstam, View (Westpoint), 2003 – collection Museum Voorlinden click here
#2  James Beckett, Sack One and Two, 2008 – collection AGI Verona click here
#3 Not Created By A Human Hand – collection Ramselaar a.o. click here
#4 Zakłady na Życie (Plant-Life) – collection Pomidou (donation Westreich Wagner) click here.
#5 Scolpire il Tempo – collection Nomas Foundation, Rome (IT) click here.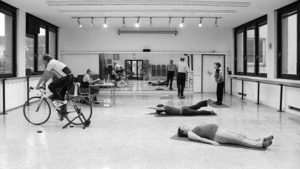 #6 Josef Dabernig, excursus on fitness, 2010 collection Dommering, Amsterdam (NL) click here.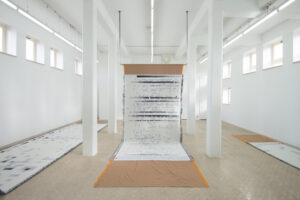 #7 Rossella Biscotti, 10 x 10, 2014 collections: Kadist Paris & San Francisco and Stedelijk Museum Amsterdam click here.