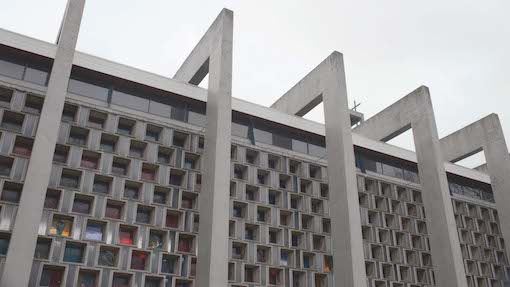 Cinema Olanda is an exhibition by artist Wendelien van Oldenborgh curated by Lucy Cotter, commissioned by the Mondriaan Fund for the 57th International Art Exhibition – la Biennale di Venezia, 13 May – 26 November 2017. Cinema Olanda goes against the current trend of downplaying the biennale as a national representation, proposing a different curatorial model by engaging with the Dutch pavilion as a projection of The Netherlands. It presents Van Oldenborgh's filmic engagement with (actively) forgotten aspects of modern Dutch history, sharing current transformations in Dutch society with an international audience.
Shot in a singular uncut sequence, Cinema Olanda Film (2017) attempts to connect an architectural location, a number of individuals, and past and present events through a momentary filmic reality. Situated in one of the Netherlands' exemplary modernist postwar districts designed by the Bauhaus trained, CIAM related Lotte Stam-Beese, who became one of Rotterdam's main urban planners in the 1950s, the film alludes to the presence of multiple alternative voices behind the screen of Dutch postwar society that was reimagining itself as a uniform modern State. Filmed in a single day, the connotations of an all-seeing image are undermined by the live production of script and music, in which a contemporary cast of individuals with a personal or professional relationship to the questions raised, relates to various internationally significant stories, which attest to a far less uniform period than is generally remembered. References range from figures like the Dutch Caribbean revolutionary Otto Huiswoud, who played an important role worldwide in race, class, and anti-imperial issues in the first half of the twentieth century and from his base in Amsterdam in the 1950s formed an impressive link with Black intellectual, political, and cultural life in Paris, London, and New York, to the popular 1950s Indo-rock music associated with the massive post-Independence immigration from Indonesia.
Starring:
Maria van Enckevort Cijntje: Historian and author of 'The Life and Work of Otto Huiswoud: Professional Revolutionary and Internationalist (1893–1961)'. She was, until recently, Dean of the University of St. Martin. Author of social studies publications for schools in St. Martin for over thirty years.
Mitchell Esajas: Co-founder and chair of New Urban Collective, a social enterprise with the mission to strengthen the socioeconomic position of youths with a migrant background, which also organizes the Black Archives that houses Otto Huiswoud's personal archive.
Patricia Kaersenhout: Visual artist and cultural activist. Her work investigates the fact of invisibility as a condition of the African Diaspora and its relation to the history of slavery, racism, feminism, and sexuality.
Lizzy van Leeuwen: Cultural anthropologist, writer, who regularly publishes critical articles in the national Dutch newsweekly De Groene Amsterdammer. Currently working on a biography of the Javanese-Dutch dancer Indra Kamadjojo.
Hanneke Oosterhof: Cultural historian specialized in the fields of social history and women's history. She worked for over thirty years in the museum sector as a manager and curator. Her current (doctoral) research takes the form of an interdisciplinary biography (architecture, history, gender) of the female German/Dutch urban planning architect Lotte Stam-Beese (1903–1988).
Lode Simons: Guitarist, who has played in well-known Indo-rock bands in the Netherlands since he was thirteen, including the Bibit Rockers en NIRG X-plosion. Taught by famous Indo artists like Eddy Chatelin and Harry Koster, his band has also performed with legendary musicians like Andy Tielman. He was a finalist in the TV talent show "So You Wanna Be a Popstar" at the age of nineteen.
Remy Sonneville: Guitarist who comes from a musical family in which all generations and genders performed dance and music from the Indonesian Islands and elsewhere. He has played with such bands as the Raylettes and the Crazy Rockers, one of the best known Indo-rock bands from the late 1950s who are still active and touring in various formations.
Addiction: The band wrote their song "Labels" especially for the film shoot. Drums: Ian Rijnders, Songwriter and rhythm guitar: Loveth Besamoh, Vocals: Lina Campanella, Bass guitar: Leon Janssen, Lead guitar: Lyana Usa.